Evonly Equestrian Center is a full-service training center, with a 155' x 68' indoor arena, an all-weather, lighted outdoor arena, a full course of arena fences and a variety of cross country fences plus miles of trails - from easy hacks to challenging mountain trails for the more adventurous.
Located on 185 scenic acres adjacent to 30,000 acres of State Game Land in the Central Pennsylvania Mountains, the Center is an easy 2 hour drive from the Baltimore-Washington suburbs, Pittsburgh or Harrisburg, just 20 minutes from I-70 and the Pennsylvania Turnpike.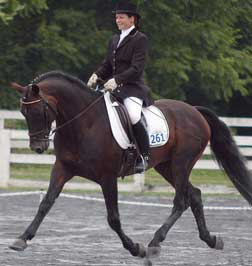 Lori Shoemake and the Morgan stallion Statesmans Silhouette
Evonly's resident instructor/trainer, Lori Shoemake, has a training philosophy that is based on partnership and mutual respect between horse and rider. All riders have the opportunity to fine tune their position and skills on schoolmasters that range from a child learning to ride on a pony to adults on her FEI schoolmaster or on the student's own mount.

We also have a proven track record of matching riders to new mounts and usually have a variety of sport horse prospects, wth a specialization in Morgan Sport Horses, available suited for the serious amateur and junior rider. Limited training slots sometimes available.
For more information, contact:
Lori Shoemake
1078 Jacks Corner Rd.
Hopewell, PA 16650

E-mail: [email protected]

Phone: 814-766-2915.

Download a printer-friendly Brochure about Evonly Equestrian Center. (Requires the free Adobe Acrobat Reader)

Copyright 2010 Evonly Equestrian Center