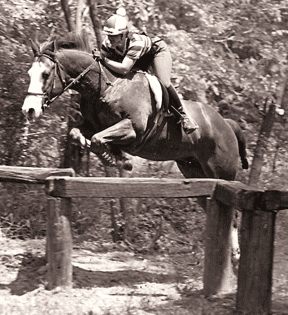 Lori as a teenager competing her Quarter Horse gelding Kopper in eventing.
Evonly Equestrian Center's resident trainer/instructor is Lori Shoemake, who grew up with Pony Club, has classical training in dressage, combined training, hunter/jumpers and driving.

Her training came from a variety of professionals such as United States Dressage Federation Hall of Fame trainer Chuck Grant, Emmy Temple, Gabor Francis-Kiss, Felicitas von Nueman-Cosel, Uwe Steiner and most recently, Bent Jensen.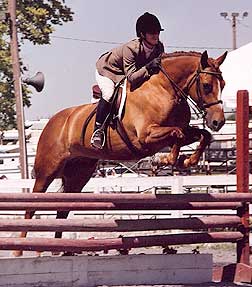 Lori and the Morgan gelding Dancer winning an Open Working Hunter Championship in
the mid-1990's.
A USDF Bronze Medal winner, she frequently attends USDF, USET and USPC seminars, clinics, judges forums and workshops to continue to expand her knowledge and assist her students to excel. In addition, she actively volunteers in mounted and unmounted instruction for Pony Club and is a Pony Club examiner, a member of the United States Pony Club Dressage Committee and is on the board of the Morgan Dressage Association.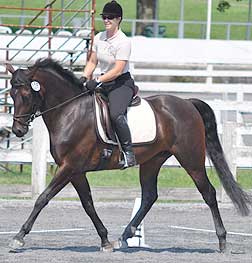 Lori and the young Morgan gelding Spring Hollow Legend competing at his first dressage competition in Summer 2009
While obtaining her degree in business management and human resources at Ohio University, she also completed courses in education and was a co-founder of the University's inter-collegiate equestrian team. She also competed as a member of the team in hunt seat equitation over fences and stock seat equitation. She spent 17 years teaching children in the summer camping environment, directing an ACA accredited program.

She has successfully trained and competed in dressage, combined training, working hunters, sport horse breeding and combined driving, winning regional and national awards in these disciplines. In addition, she has been honored with scholarships from organizations such as the American Morgan Horse Institute to continue to pursue her own equine education.

Lori keeps up-to-date with the latest research on equine management, including health care, equine reproduction, soundness, conditioning, nutrition, hoof balance and dentistry and has had extensive experience rehabilitating horses from injuries.